Welcome to Arrow Uniform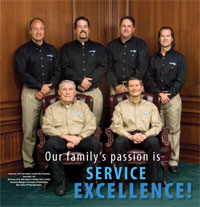 Front row, L to R: Bob Andris, Executive Vice President; Tom Andris, CEO. Back row, L to R: John Caputo,VP of Operations ; Tom G. Andris, Stockroom Manager; Fred Andris, VP Distribution; Marc Andris, VP Plant Operations.
Since 1937, our family has been determined to help customers feel comfortable doing business with us. Staying in touch while staying current with changes in our industry has always been important. Whether you are an existing customer logging in or a potential customer checking us out we welcome you. We've grown from a small neighborhood business in 1937 to a worldwide presence in 2009 and are committed to making your experience a positive one.
Bookmark this site for the times you need to check out uniform and facility rentals, purchase health and safety necessities, shop for garments, add a logo design or request quotes on the products you need.
Take time, browse our site, shop online. We are glad you are here and look forward to welcoming you to our family.